Molly Hatchet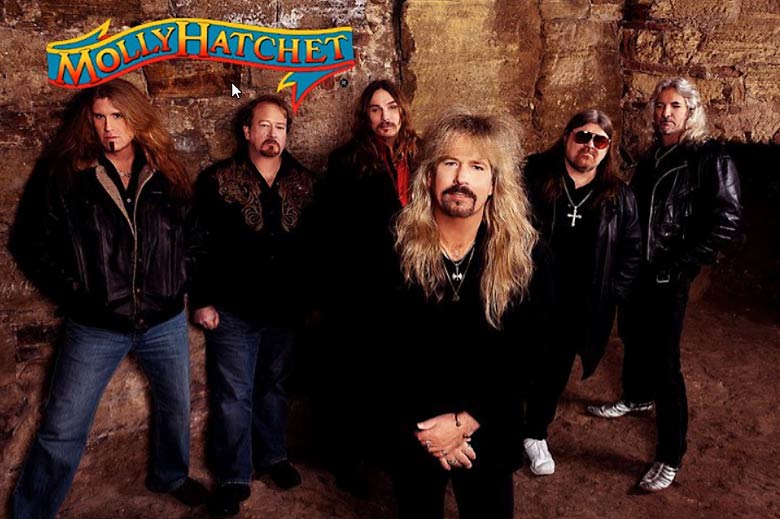 In the early 1970s a new form of music was emerging in the South. A mixture of blues, country, gospel and the English invasion of rock and roll that later was to be coined the phrase "Southern Rock." The music was filled with style and emotion and with bands in the forefront such as the Allman Brothers, Lynyrd Skynyrd and a band from Jacksonville, Florida called Molly Hatchet. Named after a famous 17th century axe murderess "hatchet molly" who would behead her lovers with the hand tool Lizzy Borden made famous.
Their self-titled debut album which included Danny Joe Brown, Dave Hlubek, Duane Roland, Steve Holland, Banner Thomas and Bruce Crump in the lineup was released on Epic records in 1978 and reached multi-platinum status as the band established their reputation of working hard, playing tough and living fast through intense touring with such bands as Aerosmith, Bob Seger, The Rolling Stones and many more. In 1979, Flirtin' With Disaster was released and history was in the making. The band continued touring on the road with an average of 250 live shows per year and like the first album it also achieved multi-platinum status. Lead singer, Danny Joe Brown left the band in 1980 and contacted Bobby Ingram, a Jacksonville based guitarist and friend, who gave brown his first singing gig in 1975 with a Jacksonville based band called Rum Creek. Brown and Ingram then put together with keyboardist John Galvin the Danny Joe Brown Band and continued touring until 1982. The album was produced by Glyn Johns at Compass Point Studios in the Bahamas as he has worked with legendary artist The Rolling Stones, The Beatles, The Who, The Eagles and many more.
During this time, Beatin' The Odds (1980) and Take No Prisoners (1981) was released with singer Jimmy Farrar. Brown returned to record No Guts… No Glory (1983), The Deed Is Done (1984) and Double Trouble Live (1985).In the fall of 1985, Bobby Ingram of Jacksonville came into the band as lead guitar and songwriter and the band continued to tour over 200 dates a year and in 1989 record Lightning Strikes Twice for capitol records.
Military friendly entertainer. Entertained our Troops at undisclosed locations in Southwest Asia.
Disclaimer:
This Company, Shelley Carroll Entertainment, Inc. acts as an entertainment consultant or broker/Producer and does NOT claim or represent itself as The Exclusive Agent, Representative or Management of the Artists listed on this site.