Jeff Mauro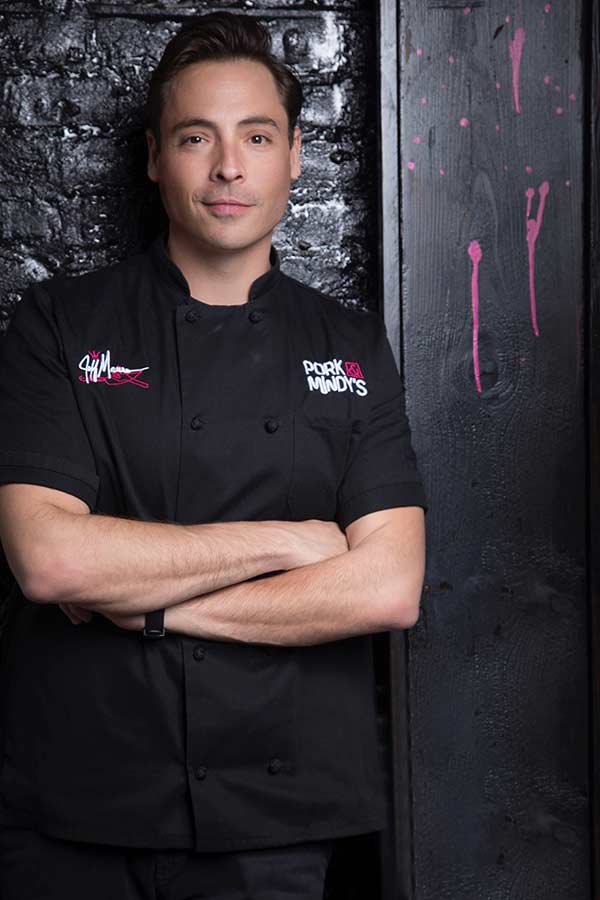 Born in Chicago, IL on a balmy July day in 1978, Jeff Mauro was a ham on a roll from the very beginning. As one of four kids, he competed for attention not by making his sisters cry like his brother Frank, but by making his family laugh. Jeff's flair for the stage was discovered at an early age, as well as his love for food, particularly in the form of a sandwich. His very first job was at the local butcher shop where he was paid the handsome wage of $3.62 an hour.  After 3 months of sweeping up bloody sawdust and washing fat pans he decided to make a vertical move and accepted a job at the deli down the street, where he was paid $5.12 an hour to make sandwiches and slice black forest ham and genoa salami by the pound. He fell in love immediately and has never looked back.
After many awkward years full of more deli jobs, decent high school theater & munchie-fueled late nights, he graduated from Bradley University with a 2.375 GPA and a degree in communications.  Promptly after graduation, he used that Liberal Arts degree to the fullest and did what he was born to do, he opened a deli with his cousin. During the day he crafted sandwiches, salads and soups and at night he fed his comedic and performative appetite by playing the role of 'Tony' in the long-running Chicago production of Tony and Tina's Wedding. In an attempt to combine his two passions, cooking and comedy, he moved to Los Angeles with his then girlfriend and now wife Sarah Edith Jones, a city girl raised in Chicago by Appalachian parents from Hazard County Kentucky.
After three years hustling (and failing) in Hollywood, he upped the ante and enrolled in culinary school to refine his cooking skills. Jeff graduated Valedictorian, he and Sarah packed up his Honda Accord and returned to Chicago where he was a culinary instructor, a new father, a successful private corporate chef, and local comedic performer. After 3 unsuccessful audition attempts, he finally landed himself on Season 7 of Food Network Star, for which he combined his passions and ultimately ended up winning. His prize was his first show, the Emmy-Nominated Sandwich King, which ran for 5 successful seasons. Currently, he co-hosts the Food Network's Saturday afternoon juggernaut The Kitchen (now in it's 23rd season!). He has appeared on Late Night with Jimmy Fallon, and guest-hosted The Today Show, Good Morning America, Steve Harvey, The Talk, The Rachael Ray Show and many others, including a well-received supporting role in a regional carpet commercial in the mid 2000s. He has even competed on Chopped FIVE times for charity.  His record currently stands at 0-5.
Jeff still lives "in the neighborhood" and loves snuggling with his long-time partner and wife of 20 years Sarah, playing above-average blues guitar, hiking in the local sketchy Cook County Forest Preserves with his two Goldendoodles Pinot G & JoJo, and jamming with his 10-year old son and drummer Lorenzo. Jeff has never tried cottage cheese and never will, so don't ask.  If he could have any other career than this one his answer is "he wouldn't." His favorite color is pastrami and his favorite smell is meat smoke.
Disclaimer:
This Company, Shelley Carroll Entertainment, Inc. acts as an entertainment consultant or broker/Producer and does NOT claim or represent itself as The Exclusive Agent, Representative or Management of the Artists listed on this site.